Lust4Dust jouera le jeudi 9 Mai 2019 dans le cadre du Festival Métal Cultures(s) de Guéret.
Superbe affiche ce jour là, jugez plutôt :
IMMOLATION, HYPNO5E, INGRINA, WATCHFINDER, LUST4DUST et DRONE2DRAME.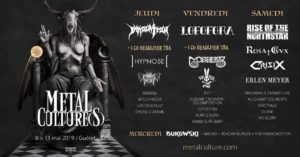 Et c'est tout  aussi excellent les vendredi 10 et samedi 11 Mai avec notamment LOFOFORA, RISE OF THE NORTHSTAR, CRISIX, BUKOWSKI, REAGAN BURGER, THE FRANKENOTTERS and beaucoup d'autres encore !
Venez nombreux, vous ne le regretterez pas !